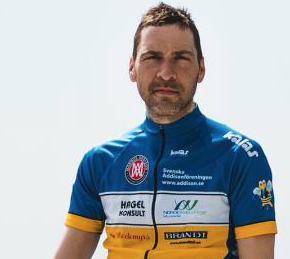 My name is Martin Norrman and I'm 41 years old. I live on the Swedish west coast, just north of Gothenburg. I'm married and we have two kids together, aged seven and twelve.
I'm a teacher, but outside of work my passions are to work with Team Addison to cycle and spread awareness of Addison's disease.
I´ve always been active with football, running and nowadays cycling—my cycling goal is to cycle at least 100 km every week.
My journey
I was diagnosed with Addison's disease in 2003 after being a wreck for three years. I fell into a coma for four days and nights and the doctors couldn't understand why.
They called in my family to say farewell to me because I was so close to death. At the last minute, a doctor with a little knowledge of Addison's disease gave me salt. I reacted and then they gave me cortisol. I survived.
I started to search for information about the disease on internet but could only find some lines in English. I felt so lonely with so many questions. In that moment I promised myself that no one ever should feel so lonely again. I founded the Swedish Addison Association and then four years ago, to continue spreading awareness and information, I founded the cycling team Team Addison.
I did this for many reasons. Firstly, we could spread awareness through our specially designed clothes in races and in public. I also wanted to inspire and show that we can be very active and how we can be strong.
When you´re active you put yourself into stress. That makes you get used to stress and after a while you need less cortisone while being active. You will handle the stress in everyday life better and can feel a crisis approaching earlier.
The documentary—The Last Remaining Light
I know the only way to reach others is through social media but needed great photos and film to do this. One day I met a neighbour who was a photographer searching for a subject he could practice on. Since that day, Martin Wallgren and I have been best friends. He is photographer and ambassador for Panasonic Nordic. With his equipment we make photos, films and different productions together to spread awareness for Addison's disease.
Our latest work is the documentary we will release later this year. It's the story of one person living with Addison's disease. The setting for the documentary is Lofoten Island in northern Norway where the mountains are extremely sharp. That was to capture the mountains and story together—how life with a chronic disease is full of ups and downs. The scenery was magic!!! Complementing the film is music from our favourite composer, a Russian man named Kai Engel. His music fits perfectly.
The film aims to spread awareness of Addison's disease by telling a life story. I hope that if the disease becomes more widely known, it will improve diagnosis and treatment. We also hope the film will interest those who love fabulous natural scenery and cycling.
I want people that don't know about Addison's to be aware, curious and start asking and searching for more information. If we´re seen, we exist!
We will release the film on Martin Wallgren's VIMEO channel: www.vimeo.com/martinwallgren
A teaser of the film is available at www.youtube.com/watch?v=vBoNVjGk5FA
When the film has been released, I hope many people will want to share it with their friends and family so we can make our unusual disease known. All support is more than welcome.